Locks can be a confusing thing to discuss especially when you've not had much experience with them. We've compiled some of the most common locks you'll find in your home so that you're better informed about which types of locks are suited for certain uses.
Cabinet locks: These come in a wide variety of sizes and styles for use in filing cabinets, display cabinets etc in both domestic business and retail settings. It is often important  to replace like for like as diameter and length of the cylinder and tail are crucial to ensuring the cylinder a) fits and b) functions.
Euro Profile Cylinder: Tends to be replacing other types of cylinder. Can be fitted to the vast majority of types of door – wood, uPVC, metal and even some types of padlock. Easy to source and fit – although it is important to ensure that you have the correct size (there are dozens of different sizes). Fitting the wrong size can make your door vulnerable to 'cylinder snapping'. There are also a number of grades of cylinder.
Can be suited so a set of cylinders all open with the same key. These are available as Brass or Nickel Plate Finish and in a wide variety of sizes. They can be Key/Key or Key/Thumbturn. They can be fitted to most doors either operating a mechanism along the edge of the door or in conjunction with compatible deadlocks and Sashlocks.
Digilocks: A great way to enable several people to have access to an area without having to worry about keys. Codes can be changed easily.
Often fitted in commercial settings, changing rooms, schools and other locations where the users can benefit from keyless entry. Digilocks can provide a low cost solution to those that are looking to control the access of their property. Establishments that find allocating keycards/keys impractical can benefit greatly from digital locks.
Gate Locks: There are a multitude of styles to suit metal and wooden gates. These enable the gate to be secured, but unlike the traditional bolt/padlock arrangement it can be accessed from either side just like an ordinary door.
High Security Euro Cylinder
High Security Euro Cylinder (Anti-Snap, Anti-Bump, Anti-Pick, Anti Drill, High Security Euro Cylinder: These are available in Brass and Nickel plated finish and can be Key/Key or Key/Thumbturn as shown here. Insurance policies may require these high security cylinders. The British Standards Kitemark can just be seen on the end of the lock in the photo. As with standard Euro Cylinders they can be keyed alike as part of a Masterkey suite.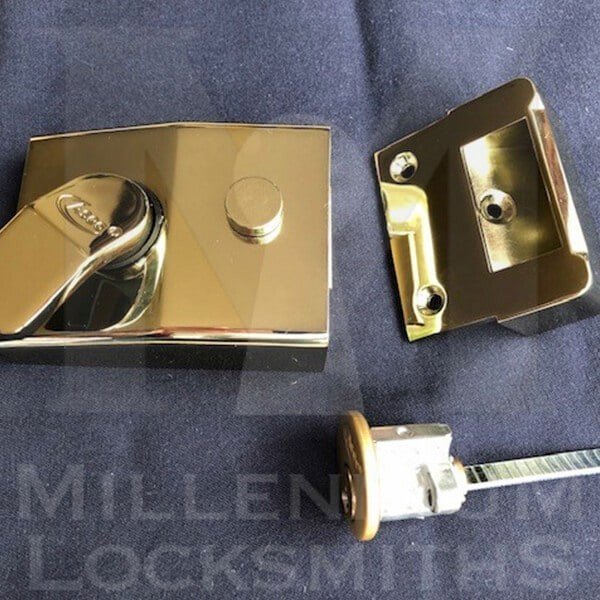 Nightlatch: a door lock with a sprung bolt that is operated from the exterior side of the door by a key and from the interior (i.e. "secure") side of the door by a knob or small handle.