Problems with side gates and outdoor buildings?
Security locks and padlocks can be supplied and fitted for main and side gates to your property.  There are a wide range of solutions available for wooden and iron gates.  We can help with:
Mortice deadlocks

Mortice sash locks

Rim locks

Nightlatches

Long throw gate locks

Double locking long throw gate locks

Garage Door Locks

Lockable dead bolts

Hasp and staple

Bolt and padlock- Brenton Padlock
Locks Guide for Wooden & Metal Side Gates
There is a wide choice of locks for side garden gates that are both metal and wooden. Some are simple to fit, whilst others are a little more complex which tend to be more secure for the protection of you, your family and your home
Brenton padbolt
This is more commonly known as a simple padbolt.  This can be fitted to the front or rear face of your side gate using a combination of bolts, screws and a secure lock. The padbolt locks using a padlock.  This type of lock system is not th most secure and this needs to be taken into consideration when deciding which option is best for you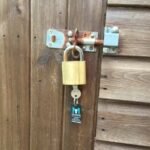 Rim locks
A rimlock is really a very simple lock for a garden gate or side door, so called as it sits on the edge (rim) of the gate or door. This is commonly found on the inside of sheds, outdoor garden buildings and on braced or ledged gates.  This type of lock is not always the most secure and can be snapped if sufficient pressure is applied.
There are 2 types of rim locks a simple version that can be opened either side of the gate with a key.  The other is latch and lock version which once opened requires a twist and turn motion.
Nightlatches
These were historically known as rim locks, though they shouldn't be confused with the modern day rimlock as these are more referred as a nightlatch locking system.  This is sometimes also referred to as a Yale Lock, however there are many other brands available.  A Nightlatch is fitted on the inside face of an external door. On the inside face of the lock, you have a little lever handle and usually a snib.
Long throw gate locks
Long throw gate lock; the 'throw' is by how much the locking bar protrudes from the body of the lock; a double-locking option (the key is lockable from both sides) and a single-locking option (with a simple spring latch on the rear of the lock and a keyhole on the front) are the options available.
The long throw lock is the cylinder of the lock which protrudes from the face of the side gate or door.  This type of lock can also be fitted to a garage door.
Mortice deadlocks
Mortice deadlocks can be either 3 levers or 5 levers (this is the lock mechanism – more levers = more secure).  Mortice deadlocks are very secure and most insurance companies specify that a 5 lever version is used to ensure that your cover is intact.  This type of lock can be locked from either side of the door or gate and are the most secure gate lock on the market.  A good mortice deadlock will also meet certain British Standards, look out for the Kitemark, as well as being CE marked.
Mortice sashlocks
Similar to a mortice deadlock in almost every way with the exception that a sashlock requires a pair of handles fitted to it. The sashlock gives you the option of leaving the doors unlocked but still held closed by way of the latch within the lock.  You need to physically pull the handle down to release the latch and open the door.
Mortice sashlocks are usually 3 or 5 lever, the more levers the lock has, the more secure it is.  This type of lock is key lockable from both sides of the gate or door.
Lockable dropbolts
This is not technically a lock in itself but is still lockable as the name implies is the lockable dropbolt. This is ideal as a driveway gate lock. Used in place of a standard non-locking dropbolt, the lockable version is fitted on a pair of gates and locks one of the gates to the ground using a padlock
Quality locks, padlocks and deadbolts
We have a wide and extensive range of solutions, here are a few examples.