uPVC & Composite Door Mechanisms
UPVC and Composite doors are one of the most common types of doors in your average UK home. The locks used on these doors are also fairly common. Composite doors take the benefits of a uPVC door and mix them with different materials to make the most of the thermal efficiency. Composite doors are also fairly weather resistant which is what makes them a popular choice on most new homes that are built today. With this being said, any door regardless of its build quality can be open to damage and wear if not serviced regularly. 
uPVC and Composite doors make use of multi-point locking mechanisms, much like the ones you would see in any conservatory door. These mechanisms are much more secure than your conventional door lock, ensuring that you're securing your home properly. There is however an increase in parts that the mechanisms depend on in order to work properly. Over years of use can take its toll on these types of mechanisms which is why they can sometimes break. It isn't uncommon for an older mechanism to be the point of failure when it comes to uPVC or Composite doors. 
If you think you've got a problem with your uPVC or Composite door lock, speak with the team at Millennium Locksmiths today! The professional locksmiths can work with you to repair your lock mechanism in no time. Whether it needs repair or replacing, we can find what's wrong within the first visit. It's not every day that your door lock stops working, but if it happens you could be left in a sticky situation! If you spot an issue, fix it as early as you can so you can keep your home safe. 
How do uPVC mechanisms work?:
With uPVC and Composite doors being the preferred option for most homes, it's natural that there will be an increase in the use of door locking mechanisms. There is good reason for this too, since modern locking mechanisms are much more durable than conventional lock barrels. Traditional cylinder locks would be much easier to break into also, since there weren't many components that could be taken out with crude tools. Modern locking mechanisms make use of cams and levers as well as multiple locking points which protect the door further. 
We work with the best suppliers and manufacturers to ensure that we're able to deliver the best in uPVC and Composite door locks to you, our client. Our vans are fully stocked with the necessary parts to repair any mechanism, ensuring that we finish the job on the day we visit! We are able to complete 99% of jobs in a single visit. Occasionally a door mechanism is a special order part – in those circumstances please be reassured that we have overnight locks with which to secure the door so you can still use it whilst we wait for delivery of your specific part – usually just a few days.
Reliable uPVC & Composite Door Mechanisms
Have you noticed the handles sticking or the keys not working as swiftly as they used to?
You may think most of these issues are key related but the uPVC mechanism is usually to blame in these cases.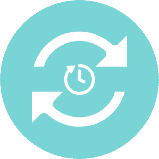 Quick Turnaround
Millennium are proud to complete 99% of our jobs on the same day. It's rare that a locksmith is able to repair a uPVC mechanism on the same day of the first visit. We stock a range of mechanisms that are ready to be installed. No waiting, no fuss!
This is reassuring for those that are left with a front door that they can't lock, as broken mechanisms can render the lock useless.
In the rare event that we're unable to finish the job on the same day, we're able to fit a secure overnight lock to keep you safe, and then complete the job as soon as the parts are available.