British Standard Lock Upgrade – Chesham
Booked by a customer to upgrade a deadlock. On arrival, it was discovered that the door had not been correctly fitted in its frame meaning that the slightly wider BS standard deadlock would need to be offset in the door. Fitting it this close the edge of the door could well weaken the door.
Discussion with the customer identified that the lock upgrade was needed for compliance with their home insurance policy so we suggested upgrading the existing nightlatch which did not meet British Safety Standards to a BS 3621 high-security nightlatch.
The customer was pleased with this solution as it meant they met the requirements of their insurance policy thus reducing their premium, their home security was improved and lastly, the integrity of the door was not compromised.
It's tricky when a customer requires a type of lock that is not the best fit with their needs however we feel that it is important to provide the best service possible and in these circumstances to be honest and say that the customer's wishes may actually be detrimental to their security. Our professional knowledge enabled us to suggest an alternative and provide it from the wide range of stock carried.
Junior School Case Study – Tring
Quotation request received from a junior school. They had chosen Millennium Locksmiths on the strength of recommendations on Everything Tring a local community Facebook page – one of our favourite sites.
Another factor was the fact that we are Which? Trusted traders, and Buckinghamshire Trading standards approved in association with Checkatrade. Additionally, all our staff are DBS checked.
The school had undertaken a security survey of their premises – something I'm sure all parents will approve of and decided that a master key system was needed – meaning that different staff groups could be given access to relevant areas whilst a master key opened all locks for ease of the school management. There were also some old, poorly functioning door mechanisms which needed replacing.
We visited the school to assess the work and parts needed and on receiving authorisation to proceed with the parts order we are pleased to say that the job was completed a few days later on a single visit much to everyone's satisfaction. The end result was that a large bunch of keys was no longer needed, access to various areas could be restricted meaning the school was better able to safeguard their pupils as well as keep their property secure.
Locksmiths are currently an unregulated profession in England and we find that many of our customers are understandably looking for reassurance when seeking a tradesman to work in their home. Unfortunately, we've all heard of rogue tradesmen and even seen them on TV! So, whilst membership of these bodies is costly and perhaps means we aren't the cheapest quote you'll get, we hope that validation through Which? Checkatrade and Trading Standards plus our own DBS checks mean that we have proved ourselves trustworthy so we are proud to advertise our status with these bodies.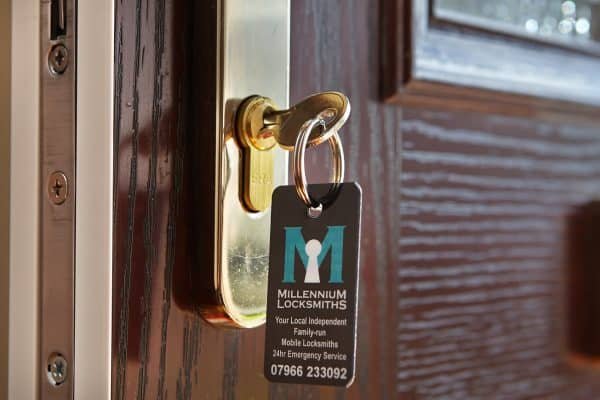 Chubb Deadlock – Insurance Approved – Tring
This was an elderly couple who have a porch and front door with Keyed alike cylinders. The glazed (inner) front door also has a deadlock which had to be  upgraded for their insurance.
However, the current deadlock is a smaller than its potential replacement meaning more wood needed removing. Due to the thickness of the wood around the glass, this would weaken the door so a solution was to fit a euro cylinder deadlock which is smaller than the Era BS3621 insurance approved Euro-profile sash-case. Original lock was left and can be used as a 3rd lock
The customer was very happy with the result.
The new lock is also on the same key as rim cylinder and porch door and back door. Side gate is a sub master so that a neighbour can water the garden whilst they are away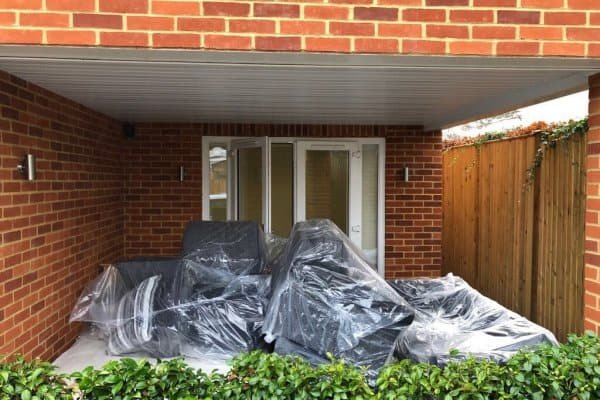 Estate Agents – Furniture Emergency!
Called by an estate agent for an urgent job – to open a pair of patio doors on a rental property as the keys were missing and the new tenant was moving in.
It turns out that the removal company had delivered the tenant's furniture first thing this morning but been unable to access the patio doors as the keys were not available – the double patio doors were a more straightforward way to move in large items of furniture than the front door and porch which required an awkward corner.
The removal company had delivered the furniture at 8 am and left it wrapped it in plastic on the covered patio area but now it was raining so there was urgency in getting the doors open asap to prevent rain damage to the client's belongings and it was decided to simply change the locks.
Fortunately, on arrival, it was a straightforward case of opening the locks and changing the euro cylinders on each of the two doors for a pair of high-security anti-pick, anti-snap cylinders (a good idea for external doors with ground floor access). The tenant wanted the two locks keyed alike so that a single key opened both doors for simplicity of use so I measured the cylinders and ordered the parts which will arrive in a couple of days.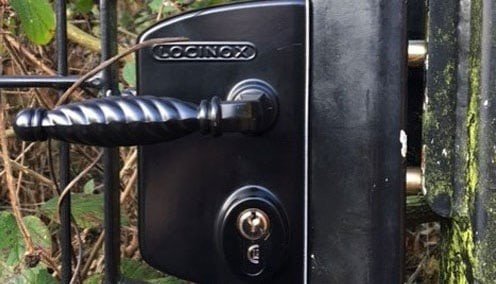 Wrought Iron Gate Locks & Wooden Gate Locks – Hemel Hempstead Playgroup
Change front door lock as a member of staff had left under a cloud. Whilst onsite, conversation came round to the wrought iron gate of the outside play area. It was explained that there had been a key broken off in the lock – could we extract it? On closer examination, it was identified that the key had broken because the lock was faulty and the key couldn't be turned. We tracked down this unusual lock and obtained a replacement which was fitted on a second visit.
Customer very happy that we'd managed to source the exact same lock. New front door lock has renewed security for peace of mind whilst the gate lock means that staff and children can access the play area more easily meaning everyone is happy!
We regularly fit gate locks to wooden gates, but wrought iron gates are frequently secured with a padlock or a padlock and chain so it was interesting to come across a lock designed for use with this type of gate and we are pleased to be able to offer something more aesthetically pleasing to our customers since that job. That's one of the interesting thing about being a locksmith – there are always new products on the market and its very satisfying to be able to find one that exactly suits a customer's needs
I've attached the actual gate lock fitted plus some other gate lock photos. The wooden gates have a photo from each side whereas the metal on is the same both sides
Patio Door Bolts – High Wycombe
Recently called to a home in High Wycombe where another Locksmith had fitted patio door bolts for additional security but the homeowner was unable to apply one of the bolts.
On arrival, I spotted that one of the bolts had been fixed at a slight angle on the patio door with the result that the bolt wasn't at the same angle as the hole in the frame and therefore wouldn't 'go home'. Once the problem was spotted it was a simple job to refit the bolt and unsurprisingly the customer now found that it lined up and slid home beautifully.
We all make mistakes but my army background means that I have very high standards of work and my working practice means that I always check that a customer is happy with and able to operate any locks before I leave. Over the years this has stood me in good stead and results in minimal incidents of having to rectify a problem at a later date.
National Coffee Chain – Burglary
It's always a shock to get a call at the crack of dawn. This one came from the local branch of a national coffee shop chain. The staff had arrived at 6.30am to open up and discovered that the shop had been broken into overnight.
When I arrived I found that the front door lock had been forced and so needed replacing – a simple and quick job to do as I had all the parts on the van but made slightly awkward as I was working in the doorway whilst customers were needing to enter and exit the shop for their pre-work coffees and pastries! Fortunately, everyone was very understanding.
One way of reducing the risk of this sort of break in is to use high-quality 3-star anti-snap, anti-pick anti-bump cylinders – these are a little more expensive (the good things in life often are!) but have been shown to deter burglars by making it more difficult to gain access to the property.
I'm chuffed to say that this isn't the first time that this high street brand have used Millennium Locksmiths and whilst I wish them no further problems – if they do have lock problems in the future I'm happy to assist
One good thing about this job – the superb cuppa afterwards!
"Key Wind" Locking Mechanism – Aston Clinton
Called to a house in Aston Clinton where the customer had returned from a shopping trip and found that they were unable to open their front door. After considerable effort, they managed to open the door but then couldn't close it. So they called us.
Traffic was in my favour as I got there earlier than anticipated. On arrival, it was quickly established that the door was around 30 years old. This can mean that parts are no longer available but luck was on the customer's side – in more ways than one.
It turned out to be an unusual mechanism – a key wind – where the hooks and bolts are operated by the turn of the key/thumb turn rather than the more common lever lift type of mechanism.
The second stroke of luck was that I had this lock on the van having been caught out before – I really dislike not being able to complete a job in a single visit if I have to order a part in.
In addition, the customer asked me to change the existing standard euro cylinder for a higher specification Insurance approved 3-star anti-snap, anti-pick, anti-drill, anti-bump euro cylinder.
When changing a lock mechanism it is advisable to change the cylinder at the same time – the parts are usually the same age and as many of us have experienced with our cars if you replace one part another often fails shortly afterwards!
I'm really happy to say that the job was all done and dusted within 45 minutes and I'm grateful to the customer for leaving a review on Checkatrade.
Loft Hatch security
Called to a Victorian terraced house in Aylesbury by a resident concerned that someone was getting into her house through the loft.
It's not widely known but old terraced houses sometimes have a shared loft space – i.e. the party wall doesn't go right to the roof meaning that someone can enter the loft space in one house and then gain access to other properties in the row through their loft hatches.
Once the seed of doubt is planted it's hard to relax once you believe that the security of your home is compromised so the obvious solution was to fix a locking bolt to the underside of the loft hatch.
In this case, the loft hatch was hinged to swing down towards the landing.
These particular multi purpose locking bolts are ideal for this sort of unusual job as they easily can be attached in any orientation. They are suitable for most types of  outward or inward opening wooden doors and aluminium sliding doors can be fitted to UPVC
Domestic Lockout Amersham
This customer introduced me to a previously unseen situation, but one which could affect many people.
The customer had gone out of her front door first thing in the morning to pick up the post and so didn't have the key to unlock the porch door. Unfortunately, she didn't have the front door key either and it had shut behind her – leaving her trapped in the porch.
Regrettably, it took a couple of hours for her to raise the alarm with a neighbour (the garden was surrounded by hedges which screened the porch from sight).
On arrival, both doors were quickly opened and the customer warmed up with a much-needed cuppa!
The solution to this particular problem was to fit keyed alike locks to the front and porch doors so that only a single key was needed to open both doors – this takes away the risk of picking up the wrong key
To remove the possibility of being stuck between two doors with no key we fitted a thumb-turn lock to the porch door. This means that a key is needed to open the lock from outside but that the door can be unlocked from inside by simply turning a knob