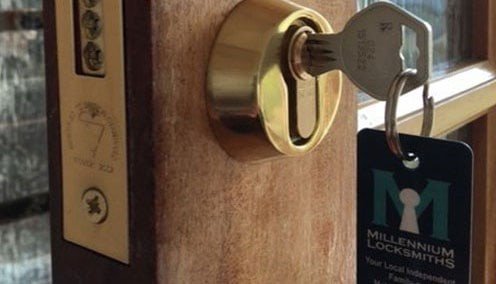 Chubb Deadlock – Insurance Approved Tring
About The Project
This was an elderly couple who have a porch and front door with Keyed alike cylinders. The glazed (inner) front door also has a deadlock which my dad discovered needed upgrading for their insurance.
However the current deadlock is a smaller than its potential replacement meaning more wood needed removing. Due to the thickness of the wood around the glass this would weaken the door so a solution was to fit a euro cylinder deadlock which is smaller than the insurance approved Chubb style deadlock. Original lock was left and can be used as a 3rd lock
Customer was very happy with the result.
New lock is also on same key as rim cylinder and porch door and back door. Side gate is a sub master so that a neighbour can water the garden whilst they are away
Millennium Recommendation
Domestic Lockout Amersham
About The Project
This customer introduced me to a previously unseen situation, but one which could affect many people.
The customer had gone out of her front door first thing in the morning to pick up the post and so didn't have the key to unlock the porch door. Unfortunately she didn't have the front door key either and it had shut behind her – leaving her trapped in the porch.
Regrettably it took a couple of hours for her to raise the alarm with a neighbour (the garden was surrounded by hedges which screened the porch from sight).
On arrival both doors were quickly opened and the customer warmed up with a much needed cuppa!
The solution to this particular problem was to fit keyed alike locks to the front and porch doors so that only a single key was needed to open both doors – this takes away the risk of picking up the wrong key
To remove the possibility of being stuck between two doors with no key we fitted a thumbturn lock to the porch door. This means that a key is needed to open the lock from outside but that the door can be unlocked from inside by simply turning a knob
Millennium Recommendation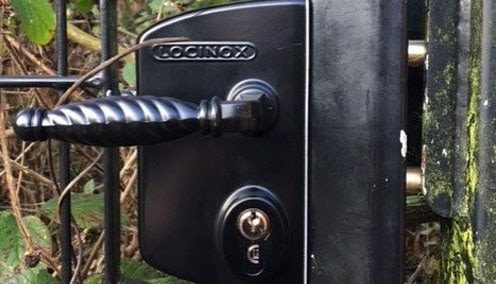 Wrought Iron Gate Locks & Wooden Gate Locks
Hemel Hempstead Playgroup
About The Project
Change front door lock as a member of staff had left under a cloud. Whilst onsite, conversation came round to the wrought iron gate of the outside play area. It was explained that there had been a key broken off in the lock – could we extract it? On closer examination it was identified that the key had broken because the lock was faulty and the key couldn't be turned. We tracked down this unusual lock and obtained a replacement which was fitted on a second visit.
Customer very happy that we'd managed to source the exact same lock. New front door lock has renewed security for peace of mind whilst the gate lock means that staff and children can access the play area more easily meaning everyone is happy!
We regularly fit gate locks to wooden gates, but wrought iron gates are frequently secured with a padlock or a padlock and chain so it was interesting to come across a lock designed for use with this type of gate and we are pleased to be able to offer something more aesthetically pleasing to our customers since that job. That's one of the interesting thing about being a locksmith – there are always new products on the market and its very satisfying to be able to find one that exactly suits a customer's needs
I've attached the actual gate lock fitted plus some other gate lock photos. The wooden gates have a photo from each side whereas the metal on is the same both sides
Millennium Recommendation
Patio Door Lock High Wycombe
About The Project
Recently called to a home in High Wycombe where another Locksmith had fitted patio door bolts for additional security but the homeowner was unable to apply one of the bolts.
On arrival I spotted that one of the bolts had been fixed at a slight angle on the patio door with the result that the bolt wasn't at the same angle as the hole in the frame and therefore wouldn't 'go home'. Once the problem was spotted it was a simple job to refit the bolt and unsurprisingly the customer now found that it lined up and slid home beautifully.
We all make mistakes but my army background means that I have very high standards of work and my working practice means that I always check that a customer is happy with – and able to – operate any locks before I leave. Over the years this has stood me in good stead and results in minimal incidents of having to rectify a problem at a later date.
Millennium Recommendation